FAIRVIEW HISTORY (wikipedia)
NOTABLE PEOPLE LINKED TO FAIRVIEW

Cathal Brugha, revolutionary and politician, born at 13 Richmond Avenue.
William Carleton, writer and novelist.
Brendan Cauldwell, actor.
Éamonn Ceannt, one of the seven signatories of the Proclamation of the Irish Republic, lived at 23 Fairview Avenue.
Kathleen Clarke, activist and politician, also wife of Tom Clarke, lived at 31 Richmond Avenue.
Tom Clarke, one of the seven signatories of the Proclamation of the Irish Republic, lived at 31 Richmond Avenue.
Sean Connolly, captain in the Irish Citizen Army and Abbey Theatre actor, lived at 108 Philipsburgh Avenue.
Larry Gogan, broadcaster.
Rosie Hackett, actively involved in the trade union movement, 1913 Lockout and 1916 Rising, lived on Brian Road with her brother.
James Joyce, lived here between 1896 and 1901.
Thomas McDonagh, one of the seven signatories of the Proclamation of the Irish Republic, lived at Woodlands, Philipsburgh Avenue.
Úna O'Connor, sportswoman.
Maureen Potter, actress, singer and performer, grew up on St. Joseph's Terrace, off Philipsburgh Avenue, and attended St. Mary's Primary School for girls, also off Philipsburgh Ave.
Seán Russell, Irish republican.
Bram Stoker, writer of the 1897 novel Dracula, was born at The Crescent, a quiet street around a small near-circular park, by the boundary with Clontarf. A (private) museum has opened to commemorate this, inside West Wood Club.
Maureen Toal, stage and television actress.
Fairview History
The Irish name seen on street signs opposite Fairview Park, as well as on Fairview Avenue and Fairview Terrace, is Baile Bocht, rather than the current Fionnradharc, which suggests that this area was originally part of Ballybough, the neighbouring community on the far side of the river Tolka.
Fairview began to grow after the building of Annesley Bridge in 1797 opened up easy access to the land; since 1488 there had been no crossing of the River Tolka below Ballybough Bridge.
Administratively, Fairview and Marino were part of the old townland of Clonturk, which also included Drumcondra.
Fairview Strand was formally known as Owen Roe Terrace and Philipsburgh Strand. Philipsburgh Avenue was called Ellis's Lane and a small area around there was known as Annadale, home to one of Dublin's earliest Jewish communities.[2] Annadale House was located in an estate that now comprises Melrose Avenue, Lomond Avenue, Waverly Avenue, and Inverness Road.[3] On Fairview Strand, near Luke Kelly bridge, is Dublin's oldest Jewish Cemetery, Ballybough Cemetery. The graveyard was built in 1718, with a mortuary chapel added in 1857 (the Hebrew date 5618 is inscribed on the front), and contains more than 200 graves. The last burial there was in 1958.
Aunty Phylis Cloak's house was next door to the Cemetery as was the "stables".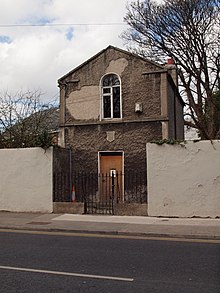 Ballybough Cemetery (wikipedia)
Ireland's oldest Jewish cemetery is to be refurbished and reopened to the public more than 40 years since its closure, under new plans from Dublin City Council.
The council took ownership of the cemetery on Fairview Strand in Ballybough two years ago 1917 from the Dublin Jewish Board of Guardians, who could no longer afford its upkeep.
Founded in 1718, it is one of the earliest surviving Jewish burial grounds in Ireland or Britain and merits consideration for National Monument status, according to a conservation and management plan commissioned by the council.
However, the historic fabric and character of the cemetery is under threat due to the overgrown condition of the grounds, the dilapidated state of the mortuary house and encroachment from neighbouring sites.
"Of particular concern, given international experience, is the risk of anti-Semitic vandalism leading to the defilement of this sacred space" if its poor condition is not addressed, the plan states.